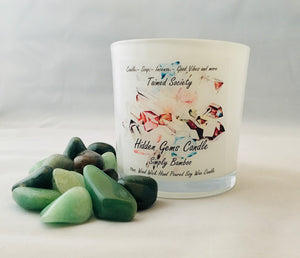 Simply Bamboo- Green Aventurine Stone of Tranquility 
*Stone is subject to be different from listing, but there will be a description with each candle*
Hand poured into an elegant clear glass with a modern label, wood wick and a crystal hidden on top of or inside candle*,  instantly making it the perfect gift.
Made in Grand Bayou, LA
100% soy wax from American-grown soybeans

Sustainably sourced wood wick

Premium grade fragrance oil and essential oils
No additives, dyes, preservatives, phthalates, or petroleum.
25 oz.
Up to 60 hr. burn time per candle

SAFETY

Please note: the stone hidden inside maybe a *CHOKING HAZARD*. Keep away from kids and pets.

Once the wax has melted down, and you can see the crystal, carefully retrieve the crystal with a spoon and wash it thoroughly with hot water.