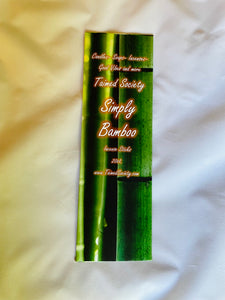 20 sticks per pack... 
11 inch sticks... 
How it smells is how it burns...
This scent sets a mood... Gets the vibe just right... Transports your mind to a place that is peaceful... Simply Bamboo is a simple blend of lemon zest, spearmint, bamboo, lime, lily of the valley, french lavender, palm bark, musk, bamboo stalks... You know something simple... So do me a favor... Breathe in quietly through the nose for 4 seconds, hold the breath for a count of 7 seconds, exhale forcefully through the mouth, pursing the lips and making a "whoosh" sound, for 8 seconds, repeat the cycle up to 4 times... Relax... Light a Simply Bamboo stick... Recharge... Now get back in there champ!