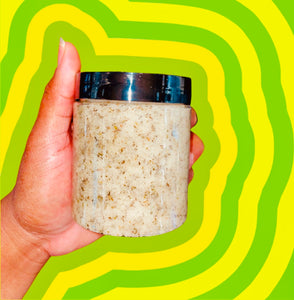 Let's scrub that mess away!!!!!!!
A body scrub removes dead skin cells, increases blood circulation and cleanses skin through exfoliation. Also known as body polish, it consists of a liquid or crème base with exfoliating granules which slough off dead skin when you massage it over your body.
Our Clover & Mint body scrub has home grown spearmint and peppermint mixed with cane sugar and topped off with Clover Essential/Fragrance oil blend to leave your skin with a cooling and refreshing clean.