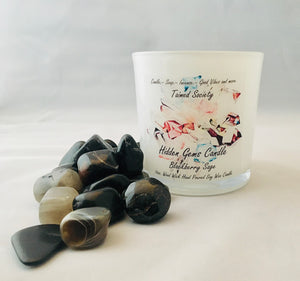 Blackberry Sage- Black Tourmaline Stone of Protection
 *Stone is subject to be different from listing, but there will be a description with each candle*
Hand poured into an elegant clear glass with a modern label,  wood wick and a crystal hidden on top of or inside candle*,  instantly making it the perfect gift.
Made in Grand Bayou, LA
100% soy wax from American-grown soybeans

Sustainably sourced wood wick

Premium grade fragrance oil and essential oils
No additives, dyes, preservatives, phthalates, or petroleum.
2 lb.
Up to 60 hrs burn time per candle

SAFETY

Please note: the crystal maybe hidden inside and is a potential *CHOKING HAZARD*. 

Once the wax has melted down, and you can see the crystal, carefully retrieve the crystal with a spoon and wash it thoroughly with warm water.