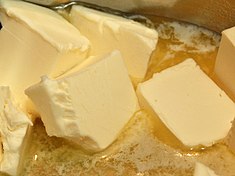 With these organic butters combined, your skin will thank you on a whole other level...
This is a functional and convenient way to quickly moisturize anywhere, anytime.
Shelf Life: 1 year. Store in a cool area
Caution: May melt in shipping if ordered during warmer temperatures, if it melts during shipping, it can be re-melted. Don't leave in a hot car it will melt and you will have a mess.
2oz. 
Ingredients: Shea Butter, Cocoa Butter, Mango Butter, Coconut Oil, and Beeswax