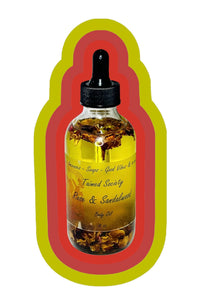 Extra Virgin Olive Oil: Anti-inflammatory and Anti-bacterial. Builds the skin's moisture barrier to prevent loss of moisture. Protects from free radicals, which contribute to cancer.
Jojoba Oil: Actually a plant that closely resembles the sebum(oil) that our skin naturally produces.  One of the best oils for skin. It controls acne, scars, & harmful bacteria with vitamins A & E. Skin cell regenerating.
Argan Oil: Known to help protect against sun damage while moisturizing skin to help prevent stretch marks.
I only use therapeutic grade essential oils for scent and solar infused oils for healing benefits.
4 oz. bottle